Dent de Jaman and Rochers de Naye
These are located in Vaud prealps, comparatively close to Lausanne, straight above Montreux and Villeneuve. Dent de Jaman (1825 m a.s.l.) is well visible from the highway Lausanne - Villeneuve (just before exit to Montreux) as a big, tooth-like rock. Its side towards the lake is almost vertical, the opposite side, although steep, can be climbed without any special rock climbing techniques. There is a path, leading to the top, where, as often happens, big wooden (oak?) cross is installed. See the map of area at walking profile page.
Rochers de Naye is a top point (2041 m a.s.l.) of a ~1 km tilted ridge, on the South from Dent de Jaman. There is a cog wheel train going during summer time from Villeneuve to Glion, Caux up to Rochers de Naye. Train upper station is built at the back side of Rochers de Naye, almost at the top. It has a couple of restaurants, one of which is reached via a long tube through the rock - to the side facing the lake, and offers a beautiful panorama.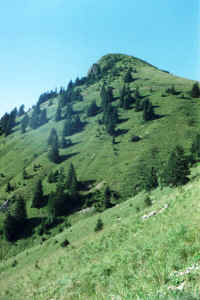 Le Merdasson as seen from the feet of Rochers de Naye.
There are numerous walking routes in the area. The best way is to go by car and leave it at the Col de Jaman parking, next to the chalet-like restaurant. I continued by foot to the South, up the slope of Dent de Jaman, passed it from the left, and then climbed to the summit. Then to Le Merdasson (1858 m a.s.l.), Sautodox (1832 m a.s.l.), Rochers de Naye (2041 a.s.l.), down along the edge of the ridge to the place where descend to Grottes de Naye begins.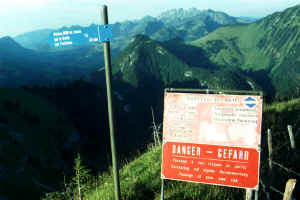 Here is the warning before descend to Grottes de Naye: "Danger. Passage at your own risk." There is not much of a risk, really.
There is a warning board installed at this place (see at the left), telling you that you are going to do it at your own risk, etc. Well, I think it is an overkill. This descend, although steep, is not more dangerous than many other routes, which are not supplied by such warnings. Most steep pieces are equipped with chains and ladders. If you are physically fit, the descend will not cause you major difficulties. Those who likes exploring caves can go inside of Grottes de Naye at the bottom of the descend. I personally do not like these wet and chilly rat holes.

| | |
| --- | --- |
| | |
| Col de Sautodox. Right after an exhausting climb up. | This is Sautodox itself. Very small peak if you already at the Col de Sautodox :) |
The last piece of the route lies from the caves to Col de Bonaudon, then down to the valley and back to Col de Jaman.
Look at the map for the route trace.
Due to the proximity of densely populated lake shore, this area is very popular and on summer weekends is normally packed with tourists, so you will not be alone. From late autumn until mid of June, outside of the peak of tourist season, cog wheel train does not work and this area is fairly deserted and looks pretty wild. I was at Dent de Jaman together with my son and my friend on June 6. Some spots were still covered with snow. We did not meet anyone, except hares and mountain goats. Standing above clouds level, Dent de Jaman looked so hostile that we returned from half way up. (see two photos below)

To get to the area is easy. First you have to take an auto route Lausanne Villeneuve and leave it at the exit to Montreux, but turn to the opposite direction - up the hill, towards Les Avants. The road will weave and bend, but don't worry, always follow the signs "Les Avants". As you reach Les Avants, you should pass it through and follow the signs "Col de Jaman". The road is narrow, but not steep and is good enough. For more detailed driving direction, please see the result of the query to MS Autoroute here.