A must for all the family
The caves in the Dent de Vaulion massif sheltering the source of river Orbe appear as nature's hidden beauty that would suddenly be revealed in all its splendor. Since 1964 hundreds of thousands of visitors - small and tall - have been dazzled by the magical stalagmites, stalactites, pillars and intricate lacework formations entirely created by nature.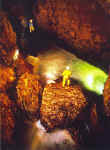 You will walk through entangled network of galleries above the underground part of the Orbe river. For the one like me, who has never been in the caves before, this excursion will be very remarkable. Cost of the ticket is very much affordable - only a few Swiss francs, I don't remember exactly.
After visiting the caves, don't miss a unique and breathtaking spectacle: set in rock domes, a superb exhibition of minerals to be discovered in all their transparence and colors, like Fairies' treasures waiting for you...
Thanks for the photos to Vallorbe Tourism Office web site.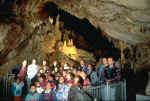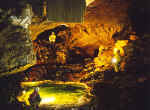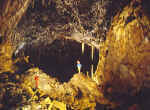 The road to the cave is the same as to Source de l'Orbe.
For more information about the region have a look at the site of Vallorbe Tourism Office.