The top of Jura.
Bad luck, I don't have any photos on this subject. Next time I go there, I will take some pictures, promise.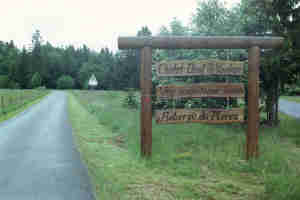 But believe my word, this place well deserves a visit. It is one of the highest points in Swiss Jura. Unlike of Alps, Jura mountains are covered by a forest, except perhaps very top. Dent de Vaulion looks rather like a huge hill, than a rocky mountain. Indeed, there is a narrow and steep, but still suitable automobile road, ending at a small chalet, some 200 m short to the top. During winter the road is blocked by snow and barred by a turnpike, but even in winter you can walk all the way up, if you feel OK to walk 1800 m up the hill. At least, if we were able to do it with two kids of 5 and 8 y.o., every adult in a good health will also be able to do it.
Make sure the weather is good and the sky is not too cloudy, otherwise you won't see much. This is equally applicable to any other mountain peak visit.
From the top you have marvelous 360° view. In a distance you see a panorama of Geneva Lake on the background of French Alps, France stretches to the West and Germany far to the North-East, but the most interesting picture opens right in front of you at the South-West: Lac de Joux and Lac de Joux valley. You rarely can see lakes at this angle, except if you are in a plane or a helicopter: you look at it somewhat forward and down. See the satellite photo of the place.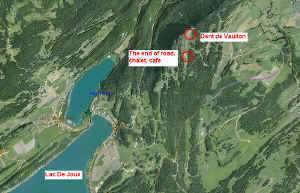 The space you look through is huge, clouds are at the same level as you are and may be even lower. I guess everyone will have his/her own feelings. The thought visited my mind that, after all, the World is quite small, if just like that I can see around a good chunk of Europe.
Dent de Vaulion is located close to Source de l'Orbe and Grottes de Vallorbe. You may want to combine all three places in one trip, but plan for a whole day. The best way to get to the Dent De Vaulion is to go there by a secondary road "Lausanne - Cossonay - L'Isle". At the last crossroad take the direction opposite to L'Abbaye and immediately after the small forest, watch for a road taking off to the left. There will be a sign there "Dent de Vaulion".
Open hours: difficult to close :)