"Glacier 3000" as a trademark and attraction.
Attention: I admit that the information below is obsolete. I was informed by Glacier 3000 staff that installations have been renewed completely and now there is a building at the top (restaurant and self-service designed by the world famous architect M. Botta)
The name prompts you of a glacier at the 3000 m height. But marketing remains marketing even in the Swiss mountains. It likes to exaggerate and never fulfils its promises. The point is: the height is a bit less than 3000 m. Neither you will find a real spectacular glacier at it. To see more marketing information, go to their official site. The reality - on all maps it is 2971 m mountain peak called "Sex Rouge" (red sex??). Funny enough, right next to Sex Rouge there is another peak, "Oldenhorn", which is higher - 3123 m. Look at the satellite photos to get an idea.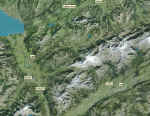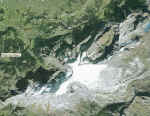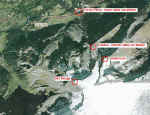 This is where disappointments are finished and interesting things begin. The peak is real sharp peak, that is it has almost no flat space. All what fits on top it is an iron construction for cable car and a small and very crowded cafe. The cafe is not cozy. The peak is mostly used by skiers and snowboard folks, at least at the time I was there is was packed with them. I was there during winter time and the place was very dirty and overcrowded. And yet it was not a weekend! Perhaps during summer, the place will look better. The booklet says that this cafe is a temporary facility until proper restaurant is constructed: "Meal service available in temporary facilities during construction of the Mario Botta mountain restaurant."
So, do not plan to spend more than half an hour on the top. However, these half an hour well deserve half a day journey. The panorama, which opens from the top is magnificent. Southwards, in the distance Swiss Alps are very well visible, including famous Matterhorn. A little to the right French Alps are seen, including Mont Blanc. The Geneva Lake, Lac Léman is seen far away at the North-West.
To get to the top you will need to take a cable car (see at the picture) from Col du Pillon to Cabane and then to take a connection ride up to Glacier. The cost of two way ticket is CHF 45 for an adult and CHF 22.5 for a kid (6-16 y. o.). You may consider an option to pay a little bit more - CHF 49 and CHF 29 respectively for a daily pass, which allows you to take as many rides up and down as you want. Especially interesting option for kids! For the people who never traveled before by cable car, this ride is an experience by itself.
There are two ways to get to the place by car. First is the quickest - by motorway. However, there is a longer, but nice route along the lake shore via small pleasant towns, such as Vevey, Montreux and Villeneuve. Whatever is your choice, the piece of the road from Aigle to Les Diablerets will be the same. By the way you can stop at Aigle and see its castle.
The road goes up the mountains, first along the big crevice and then starts to twist and meander. Typically it goes up and up for some hundreds meters and then, at a certain point, makes a very sharp 180° turn at the radius of 10 m. The road is 5 m wide (at its best) and it is interesting to see how Swiss drive in such conditions. I wonder how they can survive driving that recklessly.