If you retain at least a bit of capability to admire a bird-eye view of the Mother Earth, this is the place for you to visit.
Tanay in a small, charming valley at the alt. ~1400 m. The oval of Lac du Tanay resides in the middle of it, surrounded by small wooden chalets, which are mostly hotels or rented out. The valley narrows and climbs up to the west. Its southern wall is very steep, but the northern one offers a nice walk some 700 m. up to the peak of Le Grammont, alt. 2173 m.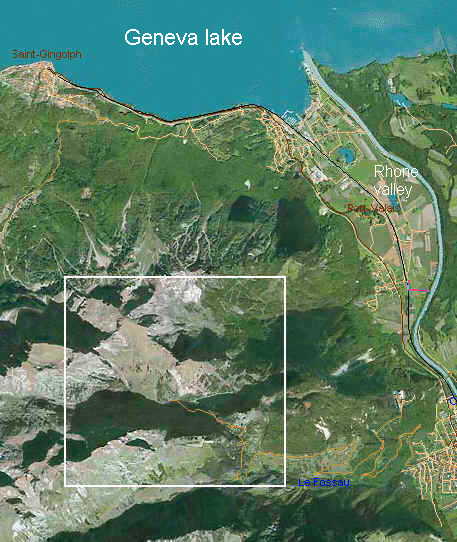 On the way up this somewhat exhausting climb will grant you with a birds-eye view to Tanay and a bit of Rhone valleys, finally rewarding all your efforts by the most beautiful panorama of Geneva Lake I ever saw. The coastline towns of Vevey, Montreux, Lausanne, Villeneuve and all what's in between them will rest like toys right in front of you..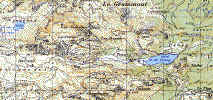 .
If you still have some energy left, you can continue the "promenade" to the west by descending approx. 400 m down to Lac de Lovenex. Then you go around it anti clock-wise and walk some 200 m. up to Lovenex pass, located at the south from the lake. Finally, you have a pleasant descend back to Tanay valley.
This route will take you away for 4 to 8 hours, depending how fast you will walk. Have a look at the map and at the satellite photo.
To get there, take a highway from Lausanne towards St. Bernard pass and exit it at Villeneuve. Then follow the signs to Evian (France) until you cross Rhone river by one-lane bridge. Then turn left (Evian goes to the right) and make it to Vouvry. In Vouvry watch for an arrow sign "Miex - Tanay" - it will bring you to the destination. Here is the route map up to Vouvry.
But, there is one "but"! The final kilometer of the road - the piece from Le Flon to Tanay is unsurfaced, narrow, very steep and have several sharp bends. Not without a reason it is protected by the "red circle" sign with the comment: "except four-wheel drive vehicles with demultiplication". I made it two times in Subaru Legacy (which is 4-wheel drive, but without demultiplication) and both time it was a challenge. I think a couple of turns are indeed impassable for 2-wheel drive vehicle; it may stuck and block the road. Do not take this risk. The alternative you have is either to go by foot 400 m. up or to take a small shuttle bus, which I saw on weekends going regularly back and forth.

| | | |
| --- | --- | --- |
| | | |
| The view to Rhone Valley | Panorama over the lake. There is Lausanne | View to the final piece: from Voyis to Le Grammont |
Good Luck!
Some links:
http://www.construire.ch/SOMMAIRE/9843/43balade.htm
http://www.gps-waypoint.ch/grammont.htm