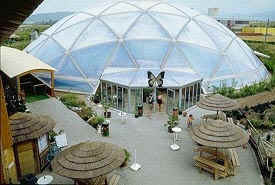 The Papiliorama and the Nocturama are internationally known tropical gardens. They are built as two big adjacent semi-spheres, covering two absolutely amazing, opposite to each other, but at the same time so parallel worlds!
Come to Papiliorama and discover a fascinating exotic jungle day world, where various species swim, run, walk, scrawl and flutter around in total freedom. More than 1000 tropical butterflies and colorful birds fly around freely in a luxuriant vegetation, which unites plants from all tropical regions of the world. Streams and ponds are home to a large number of exotic birds and fishes which appear to get along well with the dwarf alligators, the turtles and many other species.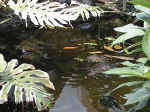 At the Nocturama, the cycles of day and night are inversed, to accommodate different races of animals which come out at night. There are mammals, birds, reptiles, amphibians, fish and invertebrates that have been brought here all the way from the forests of South- and Central America. The Nocturama is truly a unique place.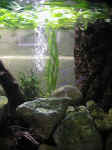 Semi-spheres are not very big, about 40m, but they are very densely populated. Fish size and quantity hardly corresponds to the size of pools it inhabits. Nevertheless, all inhabitants are seemingly doing well. There is a web of small paths through the jungle, which you can slowly stroll, looking around. But don't forget to watch you feet, you can easily step on a small bird or butterfly.
Papiliorama and Nocturama are musts for all the family! However, a couple of precautions.
First, it is hot there. Mr. Caspar Bijleveld van Lexmond, the Director, writes in his e-mail to me: "Temperatures vary from 23-28°C degrees in Papiliorama. During summer, the dome is kept at 1°C less than the outside temperature, by means of ventilating systems. In Nocturama, the temperature is constant at 26-28°C". Well, I can not disagree with that, but I felt hot! The humidity "...is kept at a constant 65-70% in Nocturama, and varies from 70-85% in Papiliorama". I can not disagree about that either, but I was sweating all over! But don't get scared, it is fun and it is a great show!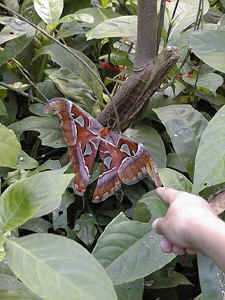 Second, as you walk through both Papiliorama and Nocturama you can take photos, just as I did. And you may fail to do it in a pale blue moon light of Nocturama, just as I failed. If you really want to take photos there, take prior steps: find the right lens and film.
It goes without saying that flash in Nocturama is totally prohibited.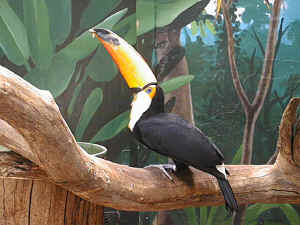 The site is located at the very north of Lac de Neuchatel, in Marin. To get there from Lausanne, take a highway towards Yverdon and then go either by a secondary road on a western shore of the lake, via the town of Neuchatel or by a recently completed highway on the eastern bank via Avenches and Murten. It will take approximately the same time, except, maybe, rush hours, when western bank happen to be packed.
Both options will offer you additional sites to see on the way. If you decide to take western bank, clearly you can stop at the Neuchatel, charming medieval city, made of yellow stone. Would you believe that this town was once part of Prussia? Eastern bank proposes you Avenches - ancient capital of Roman Helvetia with the remnants of its amphitheater and thermes. You will be able to stop also in Murten (Morat), perfectly preserved medieval town, surrounded by ramparts, which you even can walk on.