Gruyeres - Region, Town, Castle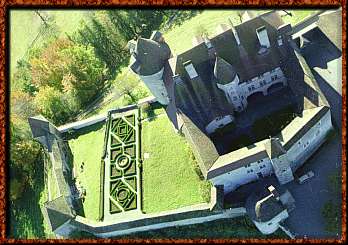 Gruyeres is a large picturesque area lying a bit to the East from the direction from Lake Geneva to Fribourg. There are many attractions in the district, such as traditional Swiss cheese diaries, folk art museums, fun facilities for rafting, carting, sledge-running, but the hit of the region is, of course, town of Gruyeres with its famous castle, "Le Château de Gruyeres".
.Gruyeres Castle, with a glorious history, is home of the fantastic International Art Center.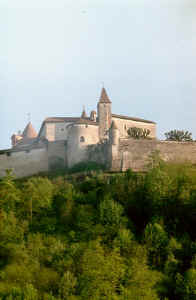 Gruyeres, a historic small fortified town is perched on a hill in a harmonious landscape. Once ruled by a Count, it is full of medieval charm with its small shops, and beautiful hotels.
The castle will walk you through eight centuries. Each epoch left its own noticeable pit on it. From Middle Ages to Renaissance it was a permanent residence of Gruyeres dynasty. Nineteen counts lived in it from 12C until 1554 when the dynasty broke with Count Michele. Creditors, Fribourg and Bern divided the County. Fribourg nobles lived in the castle until 1798, then prefects of Gruyeres district. In 1848 it was decided to sell the castle and it was bough by families of Bovi (sp.??) and Ballandes (sp.??), great connoisseurs of art, which hosted in the castle many artists and painters. Canton of Fribourg purchased out the castle back in 1938 and turned it out into museum.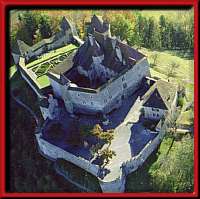 To get to the caste you will have to take a highway towards Fribourg and Bern. Have a look at the route map. Very, very nice area.
Thanks for two left photos to Gruyeres web site.