One of the most beautiful medieval castles...
Château de Chillon is one of the most beautiful medieval castles in Europe, on the shores of Lake Geneva. Constituted by a unity of some twenty-five constructions, Chillon is exceptional because of its dual facade, with its mountain-faced fortress and lake-facing princely residence. Do not miss the famous prison, the Grand Hall, the Hall of Justice, the Armories, the Grand Hall of the Count, as well as the Duke's Chamber and Saint George Chapel, where mural paintings from the Middle Ages can be admired. Chillon houses magnificent collection of furniture, pewter ware and antique weaponry.
You can go by its walls and through many rooms, come down to the cellar and go up to the tower, where from you can see the castle from the top.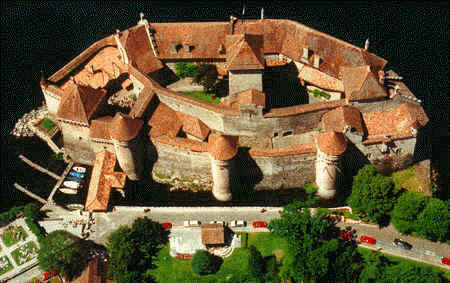 More pictures are here (all pictures are taken from http://www.chillon.ch)
Situated on the defile of the transit road leading to Italy through the Grand-Saint-Bernard pass, the rocky islet of Chillon was, from its origins, a strategic position. The time of the first constructions has not been accurately determined. The fortress was developed in stages until the middle of 12C, when Chillon was acquired by the Savoy Counts. The present castle, mainly dated back to the 13C, is the work of Count Thomas 1st of Savoy and of his sons, notably Pierre 2nd. In 1536, Chillon was captured by the Bernese during the conquest of Vaud and the bailiffs made it their residence. In 1798 Vaud, freed itself from Bernese control. Since then, Chillon has been property of the Canton Vaud.
The history of Chillon is marked by the figure of François Bonivard, imprisoned from 1530 to 1536, whom Lord Byron was to make immortal in his poem "The Prisoner of Chillon" (1816). Numerous other poets and writers, such as Jean-Jacques Rousseau. Shelley, Victor Hugo and Alexandre Dumas have contributed to making Chillon Castle famous. It has also inspired a great many artists, notably William Turner, Gustave Courbet, Rodolphe Töpffer and James Cockburn.
The road from Lausanne to Chillon is very simple: either you take a motorway or secondary road along the lake shore via Vevey, Montreux. The second way is recommended as more spectacular. Besides, the driving time is approximately the same.