The Greatest Glacier of Switzerland. (maybe even Europe?)
Very good place for comparatively easy walks rewarded by incompatibly amazing views. There are many well marked paths along the slopes. Most of them are not steep, often merely horizontal. This place is packed with tourists, so you will not be alone on the slopes either.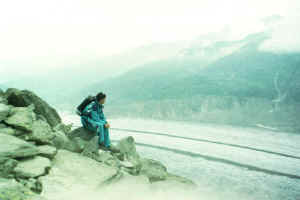 There are several ways to approach Aletch. I guess you will not avoid one or another mountain resort. I did it via Betten and Bettmeralp using a cable car. Another option it to do it via Riederalp. In all cases you will have to leave your car at a parking and make the last jump using a cable car. Of course, you can also go by foot, but I do not recommend it even for most fanatical trekkers. Save your time and energy for much better walks at the top!
Have a look at the route, which I prepared [as usual] using MS Autoroute. Unfortunately, MS Autoroute does not show clearly last piece of the route. Here is the satellite photo of it. If you follow my steps, you need to drive up to Morel (sorry, "o" with double dots above), then take the left turn towards Breiten, Goppisberg. Soon you will pass Breiten and start to climb mountain serpentine. Before Goppisberg there will be a road sign and turn right to Betten. That's where you will have to park (not expensive, ~CHF 5 for the entire day) and take a cable car to Bettmeralp. Don't worry about the return; this cable car substitutes for the normal road and, being the main communication with the outside world, is opened until very late at night (~11:00 pm).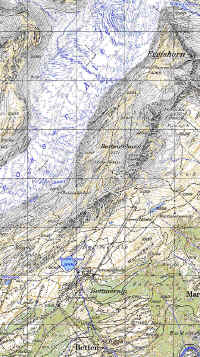 Then the most interesting part of your journey begins. Choose between numerous paths - all are equally great. Have a look at the map. I walked from Bettmeralp to the Bettmersee, then up to the mountain ridge, behind which Aletch opens. Climb straight to the ridge is a bit steep, but one can go fist to the Blausee. The easiest option is to take chair lift to the restaurant next to Bettmerhorn, but this is not interesting, is it? Mind you, chair lift closes at around 16:00. Don't count on it after that time, as I did!
I descended a little to the opposite side of the ridge until I met the good path, going slightly down along the slope and followed it up to a small charming lake - Marjelesee (sorry again, "a" with double dots above), where I shared my snack with a pack of lake trout. (next time go with the spinning!)